Learn how to use custom questions to deliver induction material to visitors during sign-in or pre-registration.
Using custom questions for inductions
If visitors need to read through a set of health and safety information or watch a video before entering your site, you can use custom questions to deliver your induction material. Using a custom questionnaire, you can include the induction course in your current sign-in or visitor pre-registration workflow.
Deliver your content using the waiver text, image waiver, or video custom question types. You can also require that each guest provides their signature to confirm that they've completed the course and then send a copy to anyone who needs proof of completion.
If you originally created your course in PowerPoint, you can export the presentation in jpeg or png format, then add each slide as an image custom question.
The image below is an example of an induction course, with slides added as image custom questions. The visitor clicks Next to display each slide to display during sign-in: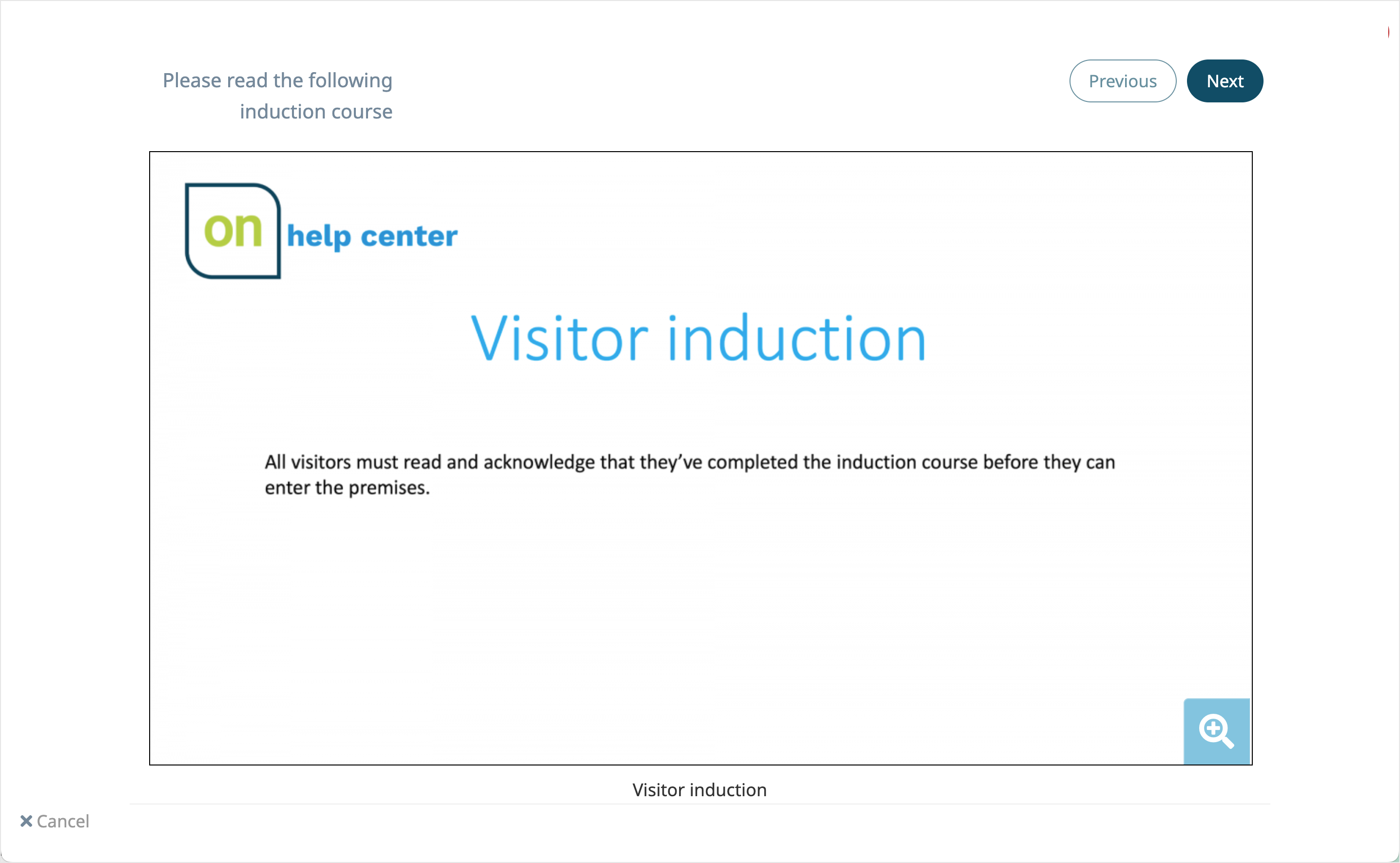 OnLocation Induction Manager does not support visitor inductions. You can only use custom questions to deliver this material to visitors. You cannot use induction expiry notifications or issue a certificate of learning using custom questions.
Create a questionnaire for a visitor induction
Go to Locations, then select the location from the drop-down list.
Select Sign In/Out Questions.
Select the Custom Questionnaires tab.
Click Create a New Questionnaire.


Enter the questionnaire name.
Choose Visitor as the audience.
Set the frequency you'd like to show the questionnaire.
Click Save.


Click Add Question.
Enter the question text.
Choose the question type: Waiver, Image waiver, or Video.
Select the checkbox next to Host notification to include the answer in the arrival notification.
Select the checkbox next to Compulsory question when a visitor must answer the question. Add the options that the visitor can select to answer the question.
Select the checkbox next to Signature required if you want the visitor to sign that they have completed the induction course. Then choose who should receive a copy of the signed question.
If there's a conditional parent question, choose the answer to a previous question.
Set the question timeout if you want to change how long the kiosk is inactive before canceling the sign-in.
Set a question pause time to make the person stay on the page before they can answer or move on.
Click Save and Close.


Add a new question for each course slide.
Drag and drop the questions in the correct sequence.
Click Preview to check the questionnaire.
Click the questionnaire's current status, then select Activate.
Select the kiosks you want the questionnaire to appear on, then click Save.
Next step
: When visitors sign in using the kiosk, they'll have to work through your induction slides while signing in. Check the
People Presence
or
Custom Questionnaire
reports to see their record.