We are surrounded by touchless technology. It is around us every day. We may not even be aware of it at a conscious level. It's just there.
Touchless water faucets and hand dryers in public toilets, car washing, and payment solutions are all examples. More recently gesturing control technology is driving touchless user interfaces for volume control, lights, and many other Internet of Things (IoT) enabled devices. But what about touchless employee, visitor, and contractor sign in?
Given that the spread of viruses and respiratory infections can be facilitated through contact with objects which have been touched by infected people; we are very pleased to present to you features that allow visitors, contractors, and employees to sign into your facilities without touching a kiosk.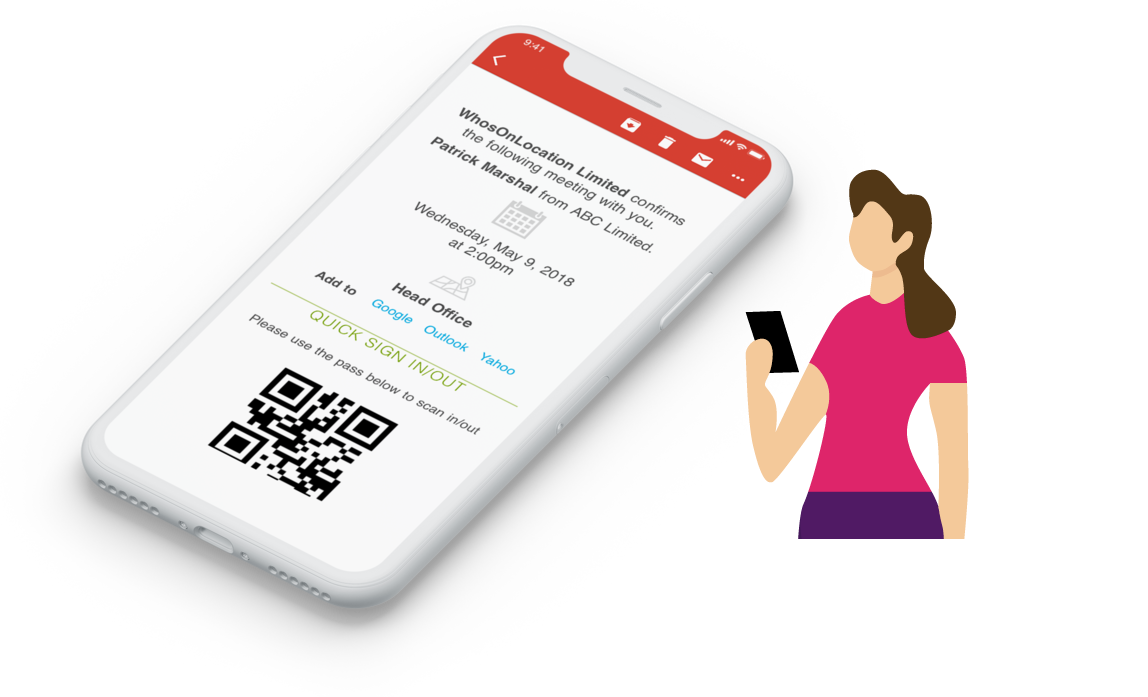 In this use case series, we highlight those features that are available within your existing WhosOnLocation subscription. These features support a touchless sign-in experience for your visitors, contractors, and employees.
Available right now
These features are available now to create a touchless sign-in experience for your visitors, service providers, and employees.
Touchless kiosk sign-in: Visitors, service providers, and employees can use their smartphone to sign into your locations securely and safely without having to download an app. Simply scan the QR code on the kiosk with their smartphone's camera, to access the kiosk from their own device.
Click here for more details.
Pre-registered visitor WolPass sign in/out: WolPass is now completely touchless! Pre-registered visitors can simply scan the QR code in their WolPass to sign in/out. No touch, no transfer of infection. A quick, safe, and seamless visitor sign in/out process.
Click here for more details.
Employee and contractor WolMobile sign in/out: Deploy our mobile app, WolMobile, to your employees and service providers. WolMobile delivers a touchless sign in/out option; ensuring a seamless entry and exit experience without the need for employees to interact with a kiosk.
Click here for more details.
Get started today!
It is important to note that these features are all available within your existing subscription, regardless of your plan at no additional cost.
Coming Soon
Custom Questions support for Sign In/Out Managers: The Custom Questions feature allows you to create custom question workflows for kiosks. It will be extended to the front of house sign in experience. People being signed in by your front of house team can be asked the same custom questions.
Custom Questions support for WolMobile users: Your custom questions for employees and service providers will be extended to your WolMobile users. Enabling you to capture more relevant information as these users arrive and depart your locations.
A new and improved Visitor Portal for pre-screening visitors: Our new visitor portal will enable pre-registered visitors to complete your visitor questionnaire prior to arriving on-site via the Visitor Portal. On completion of your pre-screening questions, they will be sent their WolPass. On arrival at your location, they scan their WolPass at a kiosk for a seamless and touchless visitor sign in experience.
Improved People Presence reporting and auditing: Enhanced People Presence reports will allow report users to view and sort visitor information by custom question response.
Self visitor pre-registration: Add a unique link on your company website that takes visitors to your unique visitor portal where they can pre-register themselves.