Overview of the add-ons available for your account. You must have the Account Owner user role access these settings.
Add-ons are free additional features in WhosOnLocation that help you manage your people presence. You don't have to enable these add-ons and you should only turn on the add-ons you are going to use. This will ensure that your account is streamlined in its use.
To access Add-On Management, go to Tools > Account, then select Add-on Management from the left-hand menu.
Learn more about how to enable and manage your account add-ons.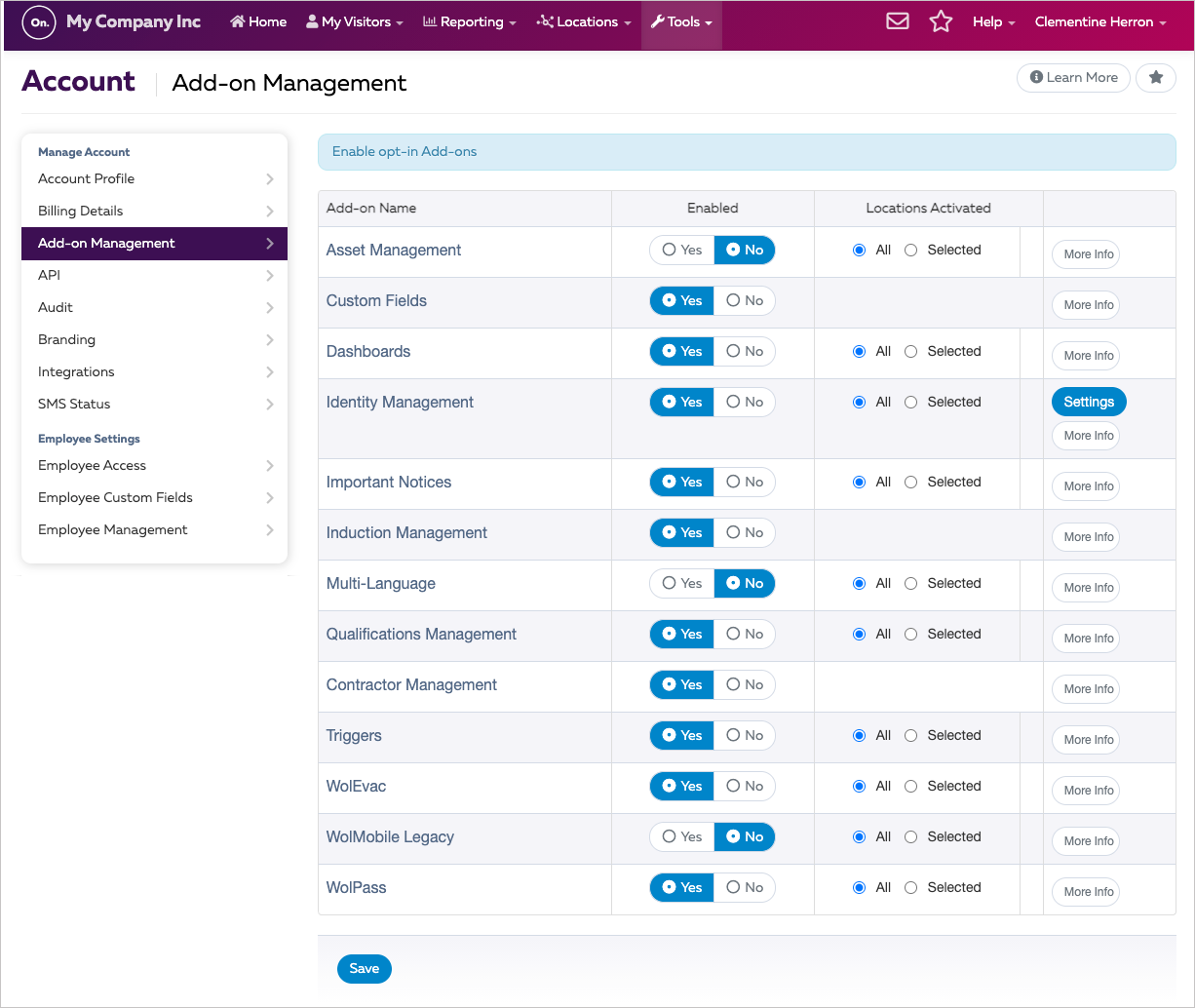 A brief overview of each add-on is listed below:
Asset Management
The Asset Management add-on gives you the ability to manage your assets, issue them to people, and report on who has what asset. It is used to track the issuing, expected return, and storage location of assets.
You can create and categorize assets, issue them to employees, contractors, and visitors, enter a due back date and time, record when it was returned, and report on the issuing history.
Click here for more information on Asset Management.
Contractor Management
Manage all of your contractors, suppliers, and other contractors using the Contractor Management add-on.
So that you best know who is coming on-site should be there, you can enter all of the relevant details of your contractor organizations and their members. Their contact information, insurance policies, induction courses, qualifications, and any additional notes or documents.
When this add-on is enabled, contractors will be able to sign into and out of your organizations through a variety of means and, depending on your setup, log into a portal to manage their own organization's information.
Click here for more information on Contractor Management.
Custom fields
The custom fields add-on gives you the ability to add new fields and tabs to your employee profiles, and contractor organization and member profiles. Use these fields to record all of the information that's relevant to your organization.
You can add a range of fields including short and long text fields, dates, checkboxes, multiple select options, and addresses.
Click here for more information on Custom fields.
Dashboards
The Dashboards add-on allows you to create unique Dashboard URL's configured to display real-time information about a location or multiple locations.
You can display information on visitors and contractors currently on-site, and employees on-and off-site. As well as a map of employees and contractors giving Geolocation information through WolMobile. You can display information as an overview or show the details of people.
Click here for more information on Dashboards.
Identity Management
Identity Management allows you to create and manage tokens for employees and contractors. Tokens are any barcode, QR code, or RFID card assigned to a person that can be used at a Kiosk to expedite the sign in/out process. They are only available for employees and contractors, not visitors.
When scanned the Kiosk will recognize the token as being associated with the person and they will either be signed in/out or presented with the next steps in the process, depending on your setup.
You can also use Identity Management to create and print your ID Cards using our templates.
Click here for more information on Identity Management.
Important Notices
The Important Notice add-on allows you to share critical notices in a timely and simple way, keeping your organization and those in your duty of care safe and secure. They can be used to acknowledge hazards before work commences or to notify of events during the day. We have two types of Important Notices; Acknowledgments and Instant Messages.
Acknowledgment notices pop up during sign in or out, as mandated by your organization, and needs to be acknowledged by the audience. They are used to notify people of temporary hazards or one-off events like fire drills, a VIP is on-site, or that a board meeting is taking place.
You can also report on Acknowledgement Notices to see who responded, when they responded, what they responded with, and any additional information.
Instant messages allow you to send one-off notifications. These notifications have a variety of uses from informing those on-site of an emergency, to reminding employees about company policies, the options are endless.
Instant messages can be sent to employees, contractors, and visitors, or any combination of these audiences and broken into subcategories based on signed-in status or groupings.
Click here for more information on Important Notices.
Induction Management
Induction Management is used to track the induction courses of employees and contractors that need to be completed before they can work at your locations.
These are often health and safety rules and information for the site, or job-specific rules that need to be understood by the person before they can legally perform their duties on your work-site. OR a general welcome to the company induction which is company policy for all employees, but not a health and safety requirement.
You can create online induction courses to send to people including questions that must be answered along the way to reinforce understanding. Or you can create induction courses that are done offline and tracked through WhosOnLocation.
Click here for more information on Induction Management.
Multi-language
The multi-language add-on gives your visitors, contractors, and/or employees the ability to change the language of your Kiosk for easy sign-in in their preferred language. Your receptionists or security guards can also change the language used in the Sign In/Out Manager so they can sign in visitors in their preferred language.
Click here for more information on Multi-Language.
Qualifications Management
Qualifications Management is used to track the relevant qualifications of employees and contractors.
You can create a fully customizable list of qualifications that may need to be held by people working in your organization. These may be job-specific or general qualifications, and mandatory or optional.
You can track, and report on, specific qualifications and expiry dates.
Click here for more information on Qualifications Management.
Triggers
The Triggers add-on is used for locations to send notifications, deny access on sign in, automatically sign people in and out, or display pop-up messages.
They can be set to activate on sign in, sign out, at a specific time, or after a specific amount of time. You can set rules so that they only fire for specific events. And you can perform the above actions including sending to different people depending on the person signing in or out.
Notifications can be created using placeholders to provide dynamic information depending on the person or the location.
Click here for more information on Triggers.
WolEvac
WolEvac is the add-on for evacuation management in WhosOnLocation. The WolEvac add-on gives you access to the mobile-optimized web-based app used to manage your evacuations, WolEvac.
Using WolEvac gives you an interactive list of everyone who is currently on-site which can be used to verify their safety. You can co-ordinate with multiple people through chat to manage the evacuation, who will all work from the same list so no-one is verified twice.
You can then report on your evacuation in-app and in the desktop application of WhosOnLocation.
Click here for more information on WolEvac.
WolGuard
The WolGuard add-on gives you access to the WolGuard Android-app. WolGuard is a mobile sign in station using specific hand-held hardware for greater portability. It is used for signing in/out employees and contractors usually through scanning a token, but with an option to do so manually.
WolGuard also lets you switch people's zones so that you can accurately track where in your location a person is currently located.
Click here for more information on WolGuard.
WolMobile
The WolMobile add-on gives you access to the WolMobile native app. WolMobile is an app used by employees and contractors on their smartphones to sign in and out of locations and send GeoLocation information.
Every WolMobile user is sent a unique code by Administrators that gives them access to WolMobile. They are presented with Basic Questions and Acknowledgement Notices on sign in and out, but not custom questions.
Click here for more information on WolMobile.
WolPass
WolPass is an email sent to pre-registered visitors before their arrival. It can contain details about their visit, your organization, your location, tips about the neighborhood, and a QR/Barcode for fast sign in.
Each WolPass is location specific so can be customized with the details for different locations easily. And WolPasses can be set to send automatically when using the Calendar Invites integration.
Click here for more information on WolPass.